June, 2017 I was in Chennai on a Hitchhiking trip. Back of my mind I was working on an idea of writing a book about my experience, learning and realisation from travel.

I don't consider myself a good writer as it's not easy for me to jot down my thoughts. It takes a lot of time for me to write anything and mostly I am not satisfied with my write-ups and which is why I thought of going to somewhere quiet so I could write my book with full concentration. I first thought of going to goa, but I couldn't convince myself and I started to think of some other location within India, where I can spend a month or two and complete the book. I then deicded to go to "Spiti Valley"!
July 28th 2017, I was in Kaza, Spiti Valley. The Spiti Project was live.

I collaborated with Ecosphere for my Spiti Valley Project. Ecosphere helped me with my accommodation and Food where in I volunteered for Ecosphere, in exchange for my skills.

I worked with Ecosphere on few projects in the three months, as a content creator or as a helping hand; Few of the projects I've worked on are, "I Love Spiti", Life as a Local, Karuna, Green House, and Artificial Glacier.
A Day in Spiti
---
I was living in Osel Rooms (by Ecosphere) and every day I woke up by 8AM or 9AM and would go downstairs for breakfast at 'The Taste of Spiti' (by Ecosphere), I'd sit there and do some work, or talk to people.
I'd come back to the room by 11AM, and sit by the window in the sunlight, facing the farms, the flowing waters, mountains, and the clouds! I'd sit like this till about 4PM. when the sun light is on my window, I would then go down to the 'Taste of Spiti' or to 'Sol Café' (by Ecosphere).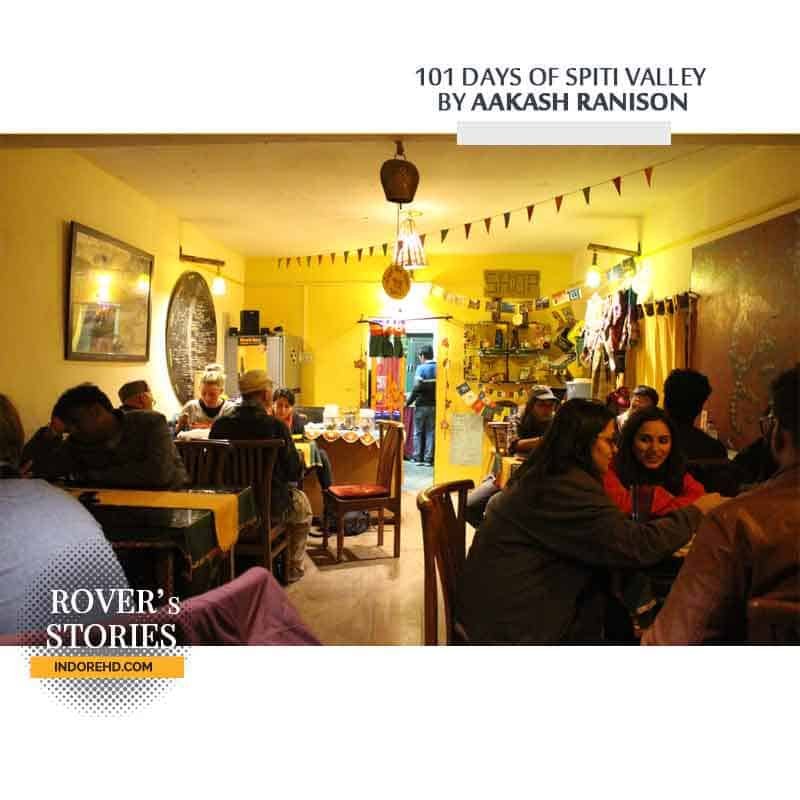 If I am not in kaka, and I am travelling, I might be on some mountain top, or a glacier, or monastery, village, cave, or even a forest, during the day, and by late evening I am looking for a plain ground close to a river to pitch my tent and camp for the night, and next day move on to some other location.
The Spiti Way:
It might not really sound like a good thing but IT IS the good thing about Spiti; There's hardly any internet!
There are only two networks BSNL and MTNL, no other networks work here. Mostly everyone uses BSNL as it works better than MTNL in the valley, but BSNL also runs on 2G network the call drop rates are really high, the internet speed is like a snail.
In the starting days I tried real hard to come online and keep posting content on my social media channels, as it's an important daily task in any social media influencer's life but I wasn't really able to post anything even after trying for hours and so I decided to leave social media behind and move on! And that was the day when I finally was in Spiti, minus my phone.
While in Spiti I spent most of my time in Kaza but also lived in villages for a few days.
Demul: I love Demul the most. If I get an option to live here, I'll surely say yes. This is indeed the mostly beautiful village of Spiti Valley. I've been to Demul more than 8 times in the three month period and have spent more than 15 days here.


---




Chichim: My second favourite village; this village is very special to me, not because Chichim has Asia's second highest bridge or it has the most number of Snow Leopard citing in the valley, but because of the people there. The so called "He-man" of Spiti Valley "Tenzin Taakpa" lives here.



Taakpa is a normal human but with superb physical strength, an unconditionally loving heart, and an innocent smile on his face. I lived at his home for almost 5 to 6 days in the overall 3 months and I got the chance to interact with his wife "Padma Ji" and his 3 little daughters. The all are so loving and caring that I would love to go back to them every time I get a chance to.

---

Tabo: Emma, a good friend from Cambridge really liked the village and decided to stay there. Tabo is really famous because of the 1,600 years old "Tabo Monastery". I loved staying in Tabo village and the architecture of the monastery is indeed incredible.
While in Spiti I did the following three treks :-
First one was Parangala Pass in August, crossing the glaciers at a height of 5,900ft. I started from Kibber, Spiti and ended in Karsok, Leh Ladakh. It took me 8 days to complete this trek. No doubt Parangala is considered as the toughest trek in Spiti Valley.
Second I went on a village trek with Ecosphere in September called as "Life as a Local". On this trek, I visited many villages which included: Kee, Kiber, Komic, Hikkim, Demul, Tabo, Dhankar. This was also an eight day trek.
The last but surely not the least, I went on Pin Babha all alone without any teammates, guide or a mule. It was October, the trekking session was already ended as it started to snow on the mountain tops, and it's not safe to trek once it starts snowing!
There were hardly few tourists left in the valley but I didn't want to let that session go like this and so I decided to do it by myself anyhow.
I started the trek from Mud; The 3rd day was the big day, I crossed Pin Babha Pass 4,600ft all alone, and on the 4th day, late evening I completed the trek in Kinnaur.
---
I did manage to complete my part of book writing, now I'll be working with one of my very dear friends to take the book to the next level. I'll bring the book out for you all very soon, keep in touch!
Comments