Indore, the city known for delicious varieties of street food, the house of Holkars and the ever-entertaining bollywood celebrities like Salman Khan and Lata Mangeshkar has another title associated with it; the financial capital of Madhya Pradesh. This may be a new angle to view Indore but is definitely a powerful view. Indore has huge resourceful markets hidden under its roof and as the most interesting part, though you can find anything anywhere in the city there is a particular 'bazaar' for almost every category.
How about we take you on a little trip to all those markets of Indore that have helped Indore to be established as the financial capital? Whatever you are looking for, you can count that on the huge webbed markets of this city! Here we go!
Rajwada
Whenever the thought of shopping strikes any Indori, the first reply always is 'Chale Rajwada!' (let's go to Rajwada). And well this thought is very rightful as Rajwada has proven itself as a desi mall, specific for nothing but you won't leave empty-handed. Want to know what all Rajwada has to offer you? Check out Why Rajwada is the biggest Desi Mall of Indore!
Khajuri Bazaar
Is your shopping list full of stationery this time? Khajuri Bazaar is your one-stop solution. Name any stationary including first edition books or second- hand books, journals to pour your heart out or diaries to pen down your schedule, pens to keep in handy or charts to decorate science project, novels for hobby or course books to score, khajuri market has it all in the cheapest rates and best quality. So, next time you are in search of any stationary or books (it may even be the rarest ones) head directly towards Khajuri Market!
Dawa Bazaar
Medicines aren't just a dose in today's hectic and chemical prone lifestyle, they are a necessity today. Even medicines cut a major hole in a common man's pocket but the local Dawa bazaar (Medicine market) sews a little part and gifts you a wrapped dose for good health. Dawa bazaar has that every medicine you can be prescribed of and all the precautionary instruments that you may need of, you just need to find the right shop.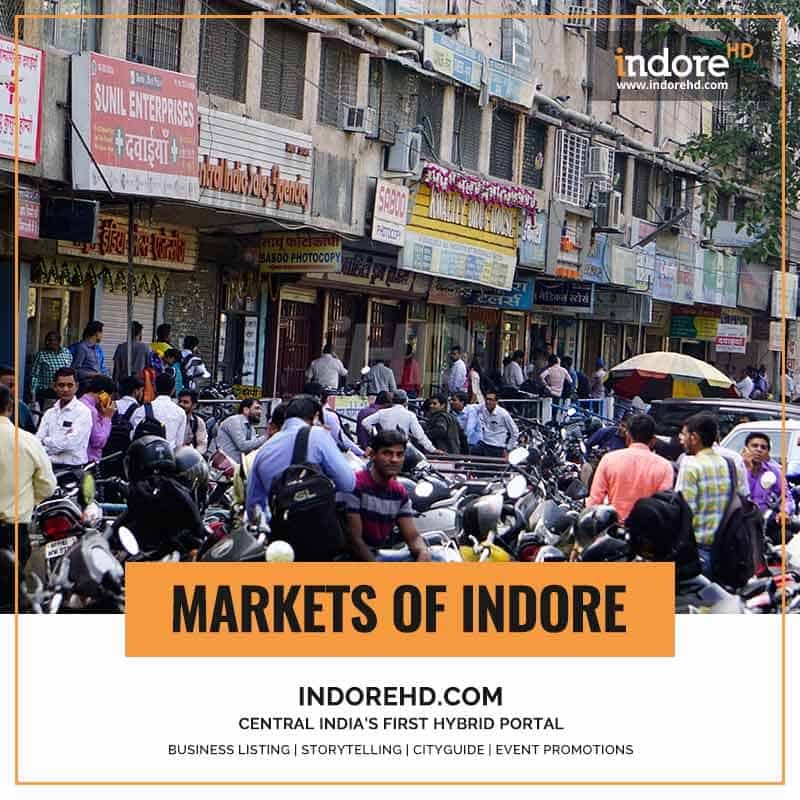 Bartan Bazaar
Planning for a house warming or willing to rearrange your kitchen requires a range of utensils, and what's a better place to find it than a local and affordable Bartan Baazar. Not only utensils but you can also find premium quality kitchen appliances on wholesale price. Huge utensils and holding racks are a part of this great deal. Buy as many as you want, and you won't regret either the price or the quality.
Jawahar Marg
Indian craftsmanship is recognized throughout the world and when it comes to our own homes, we definitely deserve the best! The best in the furniture world of Indore lies in Jawahar Marg. It is our very own market for a to z type of furniture and accessories, counting from the smallest stools to the giant king sized bed, you can find them all.
Jail Road
The first name that hits with jail road is the very famous 'Novelty'. Jail Road is known for its array of electronics and especially mobile phones and accessories. If you are a true Indian and know how to bargain, your new mobile phone can bill with a discount of up to 50% from the market price. The range of back covers and mobile accessories is magnificent and adds bright colors to this market.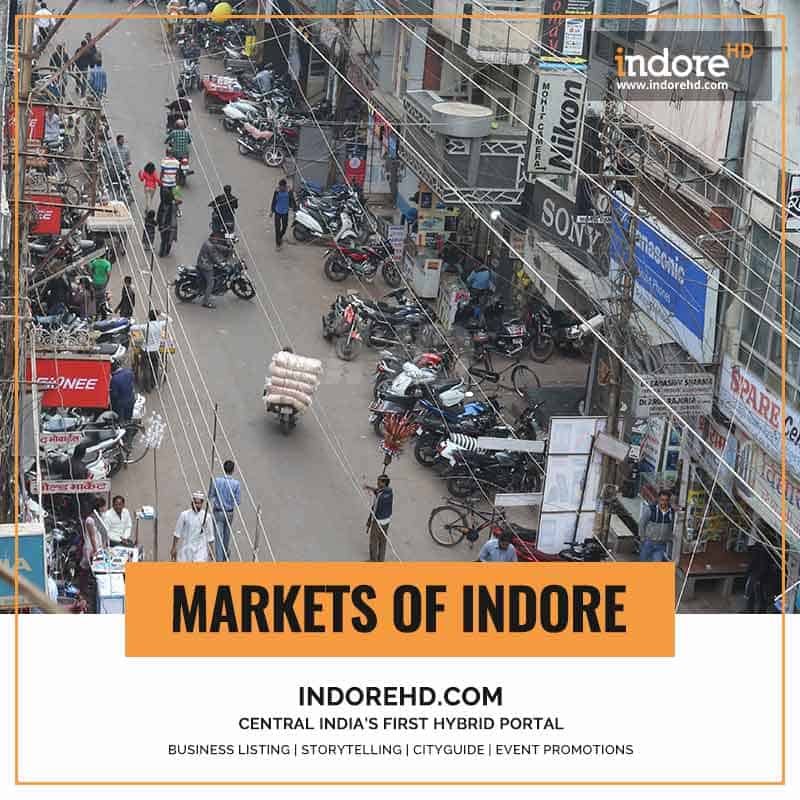 Siyaganj (lights)
If you find a house brightening up the street in dark with magical glitters, do not forget to appreciate Siyaganj. Sure! Not all the lightnings and illuminations are bought directly from this market, but indirectly every item has made a stop here. Siyaganj has a variety of lights that no one else can offer you at the same place. And of course, being a local market, every single item is priced the lowest.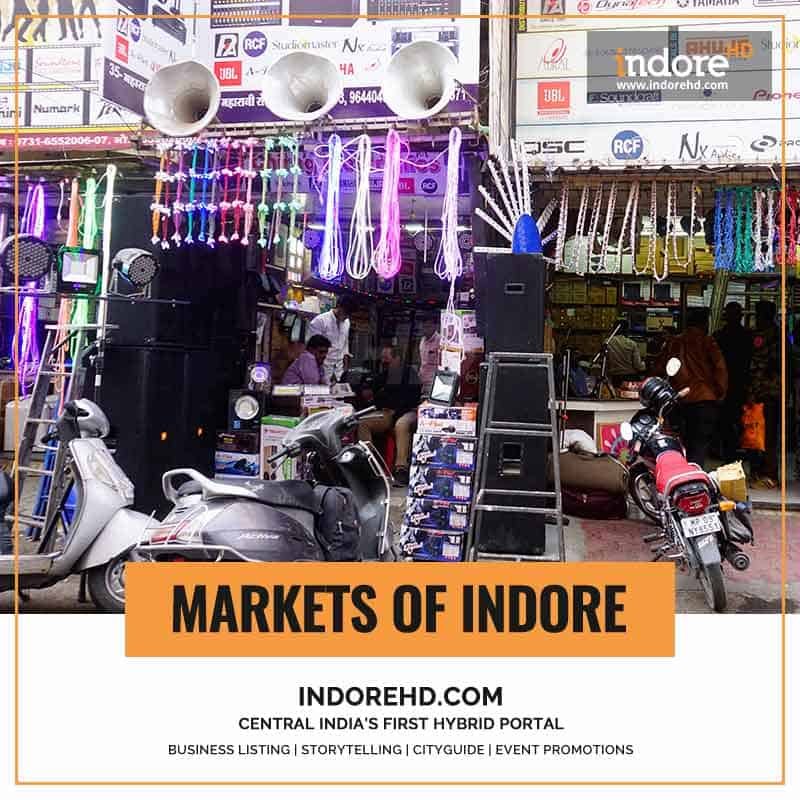 Cycle World
Cycles have come a long way from the only option to a status symbol with new options launching every day. This healthy travelling option has a huge market running on Maharani road Indore, where you will witness the rush for riding a cycle, no matter how many gears it has or how heavy the tires are, and if you are willing to search a little you will find the newest model and brand in this industry. Choose a health-friendly vehicle according to your need and feel satisfied!
Marothiya
Spices are the specialty of our India, and when it comes to Indore, marothiya has it all. Marothiya market is rich with the delightful flavors of spices, dry fruits and poojan samagri (things used during pooja). Once in a year food ingredients like fried poha used in Diwali etc are also made available here easily.
Sarafa
'There is no love sincerer than the love for food and no better gift for a girl than jewelry, this statement itself completes Sarafa bazaar. Sarafa bazaar; A market that shines with gold and silver in day light and glitters with mouth-watering street food dishes at dark nights. Whatever time you decide to pay a visit will treat you with fascination. The jewelry collection of shops at sarafa has caught the eye of many charming investors throughout years and the food stalls at night have invited tourism and popularity to the city. What's your favorite memory at sarafa?
Tibet Market
Seasonal fashion demands a special market, especially when it's about woolen clothes. The tibet market near collectorate is held only during winters and avails best offers on finest quality of woolen wears. As winters are almost here, we suggest you to grab heavy jackets and shawls from this market.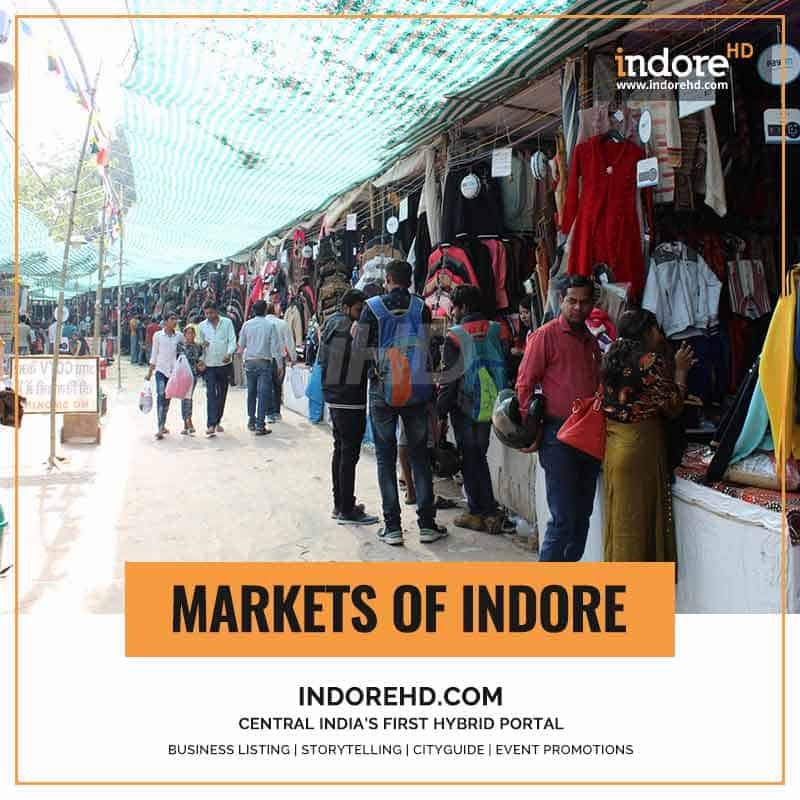 Choithram Mandi
Choithram Mandi in Indore is the biggest market of fruits and vegetables. As we know, Indore is the foodie city, so you can imagine how grand the market of raw fruits and vegetables can be. The pieces sold here are always fresh and the cheapest. Generally, vegetables are sold in bulk but a whole lane sits on one side for those who are willing to negotiate for half a kilo too. Plan for a visit once a week and get your fridge filled for the rest of the week.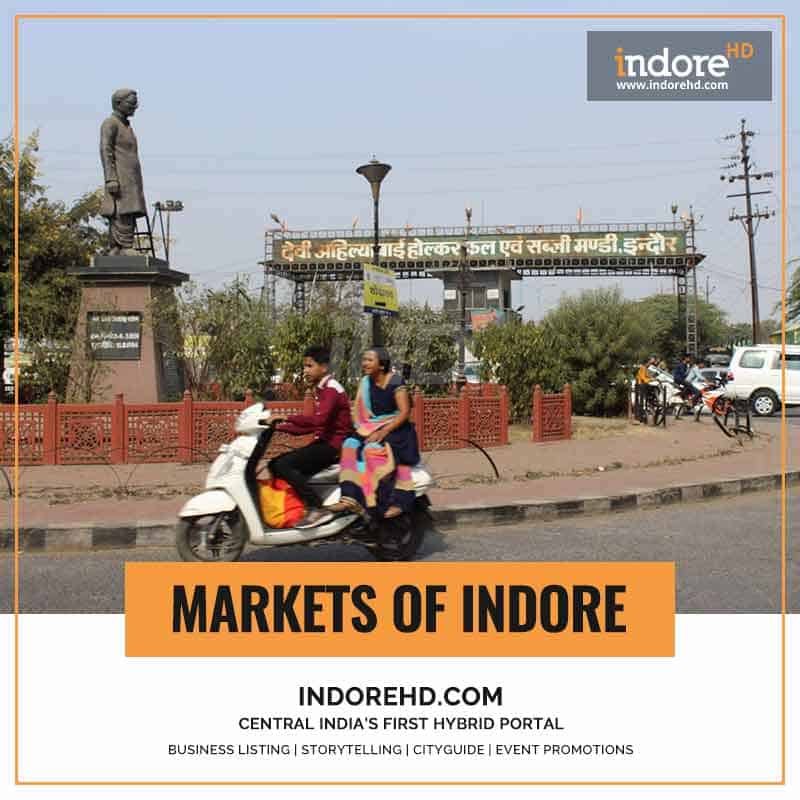 Veer Savarkar Market
Choithram mandi specializes in vegetables but if your healthy diet includes a huge percentage of fruits, Veer Sawarkar Market is for you. Fruits may look a little pricey from nearby shops but a local market like this has the perk of top quality with low prices in an enormous variety.
Kothari Market
Shopping means clothes, a whole load of clothes and lots and lots of fashionable wears, if you have picked your bag with this mindset, Kothari market has colossal picks for you. Kothari market is full of ready-made fashion wears and accessories that can go along with your choice. Party wears is a specialty of this market.
Bajaj Khana Chowk
A simple cloth does not attract eyes as much as a fancy wear does, but what makes it fancy? A beautiful lace, some sparkles on the end or small decorative pieces sewed with the dress? Well! Whatever it is, all of it is available in the Bajaj Khana Chowk, the wholesale market of laces, sparkles and fancy decorative pieces used to turn a cloth piece is a trendy dress.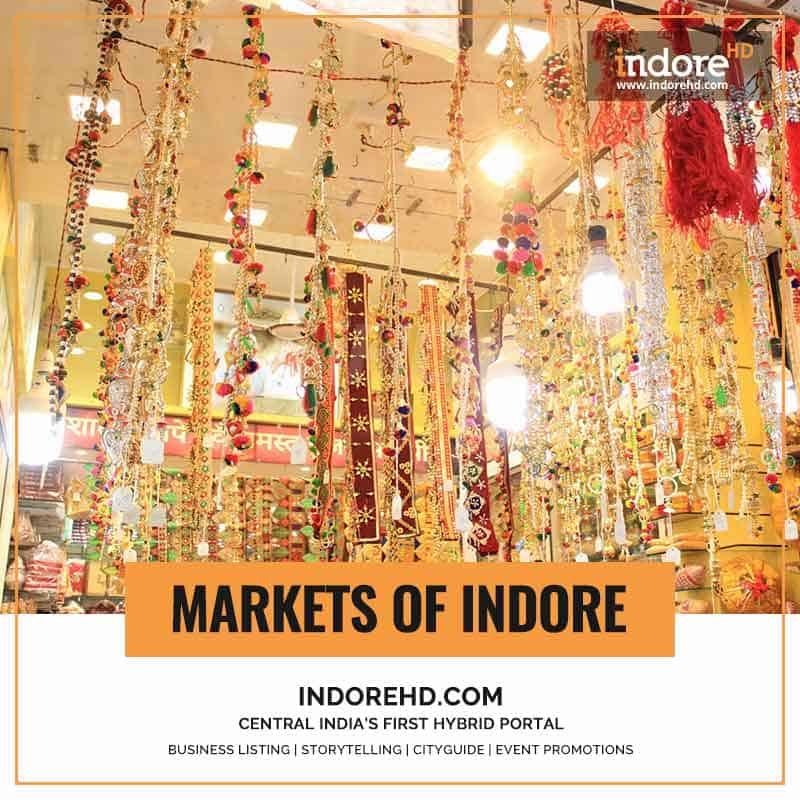 Cloth Market
Ready-made clothes are a major choice but the manufacturers require a market of premium cloth materials too. That is what cloth market is! Cloth market also has a vast range of ready-made clothes especially Indian wears but it majorly deals with cloth materials.
Shopping isn't just a point on the to-do list; it is an experience that pleases every person once in a while. Let's make your next experience the best one between cheering hosh-posh of the local crowd!
Comments