Indore, the city is known for its diversity and growing industrialization has somewhere failed to preserve its biggest resource. This city has traveled from no existence to the financial capital of Madhya Pradesh in an impressively small time period. But the first and foremost reason for the establishment of the first brick of this beautiful city is now trying to find its way through bricks and garbage.
The Holkar dynasty understood the importance of the Kahn River, the center of this city and that is why they decided to build the famous Rajwada (their house) near the banks of the river only. Though their decisions led to a growing and developing town even their teachings and morals couldn't stop the river from turning into a naala.
As the end of Holkar dynasty approached in the pages of history, along with that came the ruin of this holy river. Social activists and researchers believe that this started when Indore first saw its industrial potential in 1818 when Mandsaur Peace Treaty signed between the East India Company and Maharaja Mahar Rao Holkar. Industrialization mushroomed the importance and holy spirit of Kahn River so quick that in a few years it was known commonly as Kahn naala instead of Kahn River. Many were concerned about this parasitical growth but not much was done for its safety!
Origin of Kahn River
Kahn River originates from the same valley that Shipra River starts from, Kakri Bardi Hills. Kakri Bardi hills are located in Ujjain area and many natives living near the banks depend on the purity of water for their healthy well being. The river further meets the holy Ganga River after joining Shipra into Chambal and then eventually merging with river Yamuna. The river which has now turned into a sewage dump yard somehow mixes up with every river and pollutes it. Kakri Bardi hills are located in Ujjain area and many natives living near the banks depend on the purity of water for their survival.
Once Kahn River was considered as one of the biggest sources for fresh water in Indore but now considering it as a River is also a debatable topic. Another interesting fact is that the Kahn River is the only river that flows in the inner circles of the city, and we guess it is paying a real price for that.
What Went Wrong?
Some say that Britishers brought the era of development and industrialization to the city while a major belief is that in around 70's Indore started witnessing its tremendous growth in industrialization. No matter when it started but as soon as the city started excelling itself in the field of industries and chemicals, as a consequence, all the industrial wastage was being dumped in the holy river. On the other hand, common people too dumped a large amount of household garbage and human waste into the river.
This river is supposed to be among the holy rivers of Hinduism as its origin coincides one of the world's largest religious gatherings – Simhasth Kumbha in every 12 years, but as it is seen today, the water is not even compatible for household uses. Not to forget that more than 30 illegal slum colonies have swallowed a great part of the river and other illegal constructions aren't doing any good to the river too. This contamination of river is a dangerous game played by localities and as the rule says the sufferers and players are the same. The water is contaminated by human finally reaches to their taps only, causing a widespread of hazardous diseases.
The illegal blockages have definitely brought a huge change in the natural flow and in better words, it has restricted its natural flow. Seems like Indore lost its precious river a long time ago, but good and powerful efforts can still pull off the best upside.
Helping Hand by the Government
News flashing good work of activists and socialists towards the river can be noticed every now and then but once in a year newsletter also brings few headlines about how the government and center are concerned about the devouring river of Indore.
The first time when Union Government noticed the dilemma of the Kahn River in 1985, they approached to State Minister for Housing and Environment department of New Delhi. At first, the answer came up with a happy nod but it was aborted even before it began. And the reason they mentioned stated that Kahn was just a nallah, not a river. Many other projects were proposed for the revivals of the Kahn River were presented in 1992, 2006 and even 2011. But no fruitful result was observed.
In recent times, the state government and the Indore Administration again came up with another blueprint for cleaning; this was right before Simhastha Kumbha 2016 in Ujjain. This project was designed with a quoted amount of Rs. 2,179 crore, which became a major reason for unacceptable in New Delhi.
With satisfaction of only moral support from the Union Water Resources Ministry of India, State government was on its own. And so they accepted the challenge and started working on it. With an addition to this India witnessed a huge transformation with 'Swacchh Bharat Abhiyaan'. This addition turned out to be a very positive turn as Indore has secured the title of 'The Cleanest City' of India' twice now. This, of course, was a plus point for the mission of saving River Kahn to some small but powerful extent.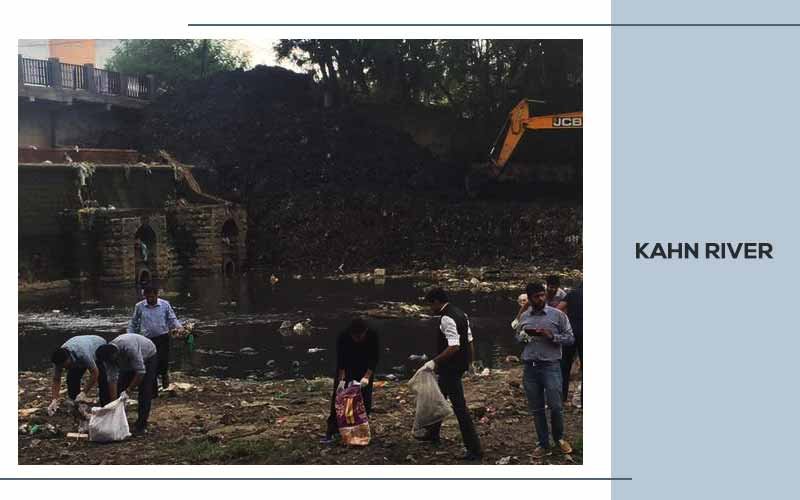 Though around 2 years have passed now after Simhastha Kumbha Mela 2016, a major portion of the river still remains under the quote 'naala'. But on the positive sides, a minor portion has found its way back to the title of 'River'. Indoreans its time that we all stand together to protect and bring back one of the biggest sources of fresh water of our city. Our efforts will definitely bring a better change, no matter how small or how big, but a change, isn't that what's important. Let us know how you feel about Kahn river after knowing its back history and the truth of its exploitation in the comment section below. Let's rename it to 'Kahn River' from 'Kahn Naala'!
Comments