We have always heard that every human being has a god gifted talent and it just needs to be polished. But some call it passion! Only when a talent becomes a passion, the world gets to know his name. One such name has been recognized by the world today, but his journey from talent to passion is still behind the curtains. Mr. Wajid Khan, an artist who lives by his talent and blessings of his mother.
'Wajid' the word itself defines creativity, and this person took creativity to next level with uniqueness. If you aren't familiar with this great personality, please check out the link and get to know his thoughts and artwork. Mr. Wajid Khan has astonished millions with unusual creative arts like 'bullet art', 'nail art' and many more that are simply marvelous.
They say that 'only craziness can achieve success', and he stood up to this quote all his life! A person who wasn't even sure about the spelling of 'artist' has defined art in unimaginable way! This article uncovers every corner of his story. A story that is extraordinary just like his art! This story may even open doors for your aspiration, so, keep reading!
The First Tiny Steps!
---
 His first cry was heard in a small town called as Jawra, Madhya Pradesh on 10th March 1981. Soon he was brought to his home where his whole joint family lived together in Songiri which was 14 km from Mansaur, M.P.  Wajid Khan was a sweet notorious child first but soon his father, Mohd. Abdul Wahid noticed that he wasn't good at studies like other kids of the family and forced Wajid to study harder.
Wajid was enrolled in a school which was around 8 km away from his place and fascinatingly he covered this difference on a horse named 'champa'.  The company of his brothers and sisters made the ride interesting every day. Wajid mentions that his life has been quite peculiar since he was a kid. For instance, when he lived under a broken roof made up of kavelu, he could find bright sun rays passing through them as blessings from the holy god whereas others found it as just a sunny day.
People always addressed him as a strangely odd person but only his mother understood him, Mrs. Roshanara always motivated Wajid to be who he wants and believes that he will make everyone proud someday.
One fine day in his childhood when he was around 10 years, he discovered his talent. When his uncle's tape got damaged everyone lost hope in it but this was an opportunity for Wajid. He used the tools and opened the cassette tape and repaired it easily. It started working fine, but when Wajid tried to convince that it was his work no one believed him. But his mother still held his hand.

The Real Struggle Started At 14
---
 When a child does not study and behaves differently, he is often misunderstood as a person who is capable of punishment. Even Wajid was forced a lot by the society and his own family members to act like normal people but this could not happen. Wajid was so good with machinery and visualization that he repaired a lot of electronic equipment by the age of 14 but other could not see it as a talent. At the age of 14, with his mother's blessings and only Rs. 1300, he left his house. Hundreds of thoughts conquered his mind while he was walking on the railway track all alone but then he knew that someone up there in the sky is with him.
He reached Ahmedabad and started working as a seller and buyer of old clothes. But the creative person in him kept on poking and he went back to Mansaur and started creating a small electric press. At that time even he didn't know that he was creating the smallest electric press (iron) of the world. His creation became a reality and by God's grace Wajid met people who helped him to reach Guinness book of world records and at the age of 14, Wajid Khan became a record holder. Later he broke his own record of an iron of 1 inch for an iron of 0.5 inches.

Learn With Every Experience!
---
As time passed Mr. Wajid Khan created many such arts that whispered unbelievable thoughts. His many creations are awarded by Presidential awards and have broken records with many. Like the smallest working ship was one of his early creations.
After his first record, Wajid moved to Indore for his further studies in the field of art. Wajid Khan believes that education on the basis of words and letters cannot define you but if you know what you want, work hard for it and learn for it. God always pays back.
His humble words include a huge gratitude towards his mother and wife Mrs. Maryam Siddhiqui for their support. Wajid Khan proved that if you are desperate to be yourself, you will become a shining star too.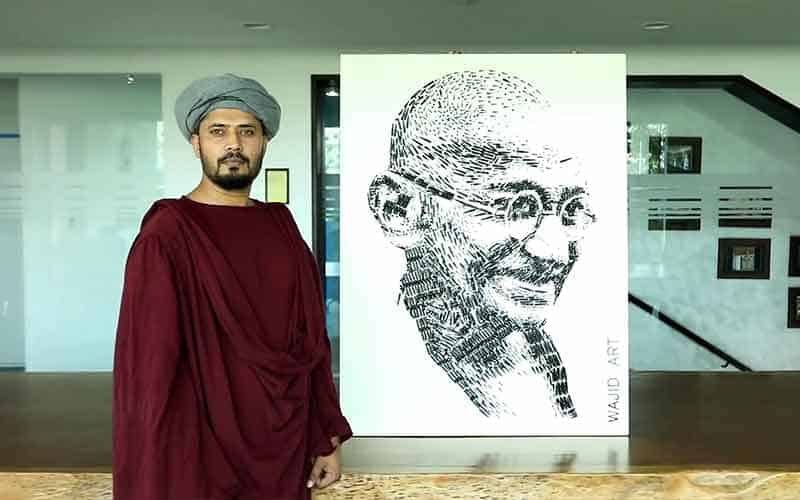 Do you also have dreams that people laugh on? Hold on to it, because they are going to be true soon! Share your thoughts about this extraordinary personality in the comment section below.
Comments